Bloody Valentine blog hop
This is my first blog hop and I am so excited about it! The hop will be going on for 3 days so make sure you stop by and see what wonderful project everyone is making.
You should have come to me from
Fiona
and when you are done here please go on to see what
Trisha
has been up to.
The Project I decided to do for he first day is a valentines day card, I thought I'd start off small and simple an I just totally love this stamp from
http://www.smearedink.com/copy-of-hanging-heart-bloody-valentine/
I have coloured the stamp in with Promarkers then gone over the dripping blood with acrylic paint and perfect pearls, the nails i have gone over with stickles. The backing paper I used is bazzil card stock and then I've finished it off with the black bead trim a piece of red net and a black feather.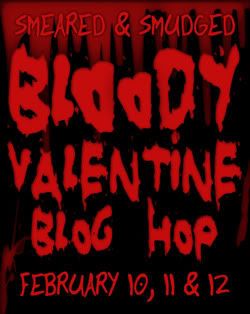 Blog Roll
Tori
Ike
Sara
MaryKay
Alison
Helen
Jane
Black Dragon
Kapree
Sugar
Monique
Lady Brayton
Kelli
Lisa
Kristy
Steph
Jennifer
Susan G.
Jamie S.
Fiona
Shell
Trisha
Emjay
Dianne